Real Estate Partner Analysis Software
(Module Included free in the Landlord's & Flipper's Software)
Calculate and Present Deals to Potential Real Estate Partners
Illustrating Potential Returns on Invested Capital
Trying to raise capital for your real estate deals?  Instantly calculate and present a partner's real estate profit and rates of return based on the equity invested.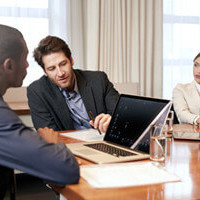 The decision-making process for an investor is actually quite simple.  They need to know three things…  how much do you want, how much are they going to make, and when will they get it.  Without answers, you will find it very hard to raise money,
That's where our software can help you.  Our partner module computes an individual's (or group of individual's) personal rate of return (cash on cash, internal rate of return (IRR) and modified internal rate of return (MIRR)) every single year of the project's expected life up to 20 years.  The annual cash flow, profit, and ROI are calculated based on the equity you choose to give them versus the cash you need them to invest.
You then can create professional-quality reports so that you can clearly and concisely communicate the financial information required by all investors.
Real Estate Partner Presentations
Preferred Returns, Profit Allocations and Income Taxes
Cash Flow Analyzer Pro ®
Download Instantly!
*With a click of a button, you can also present investments to prospective partners who invest using their retirement money.