The Complete Guide to
Real Estate Cash Flow Analysis
How to Analyze Any Property
for Greater Profits with Less Risk
Understanding the Decision-Making Process
for Greater Profits in Real Estate with Less Risk!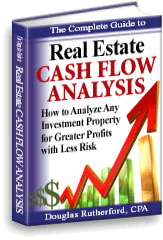 Avoid the "Get Rich Quick" Concept
Throughout the ages, people have traveled far and wide to jump on the latest get-rich-quick "money-making" bandwagon.  We have all seen those late-night infomercials paid for by supposed real estate multi-millionaires promising the road to riches "for just three easy payments of $29.95."  With "just a few hours a week and no money down," in no time at all, you can be a multi-millionaire, too!
Anyone who tells you that you are going to get rich quick and easy is not being honest with you.  Don't get me wrong, there are many legitimate strategies for making money and creating wealth in real estate; but they require time, effort, and usually money. For every strategy there are probably twenty real estate "gurus" who want to sell you a real estate course.  I personally know many of them, and I put them into two categories:  those who should be charging twice as much as they do because of the value they offer and those who, quite frankly, should be sentenced to personally implement their own strategies.  Be mindful of who is giving you advice.  You don't always get what you pay for.
Take Off the Rose-Colored Glasses
With that said, these "gurus" want to teach you "how" to obtain properties and, maybe, "what" to do once you have obtained them.  Of course, the "how's" and "what's " are extremely important, but they do not address "if" you should buy the property in the first place.
Obviously, not all properties are suitable for investment purposes. The "if" is what this book, along with the Cash Flow Analyzer® Software, addresses.  If you want to make money and build wealth through real estate, you have to learn how to select the right properties.  If you invest wisely and for the long-haul, you have placed yourself on one of the surest paths to wealth and financial freedom.
Understand the Right Way to Make Decisions
Free book shipping in the U.S. only.
For Canada, the book will be delivered in PDF format via email by a thrid-party.