Enabling Macros in Excel / Office
To use all of the great features of our software, macros must be enabled when prompted by Excel.   Macros are used by Excel and makes our software a powerful analysis tool…  such as drop down menus, print screens, solve backwards for the optimal purchase price, insertion of pictures and logos, etc.
The security feature in Excel (and all Office documents) requires you to first enable macros when opening our software.   This security feature is designed to prevent macros from running automatically for security purposes.   To make this feature automatic, you need to "accept" our digital certificate by selecting "Trust all documents from this publisher."   The digital certificate authenticates that we are the author and developer of the software.
Here's how…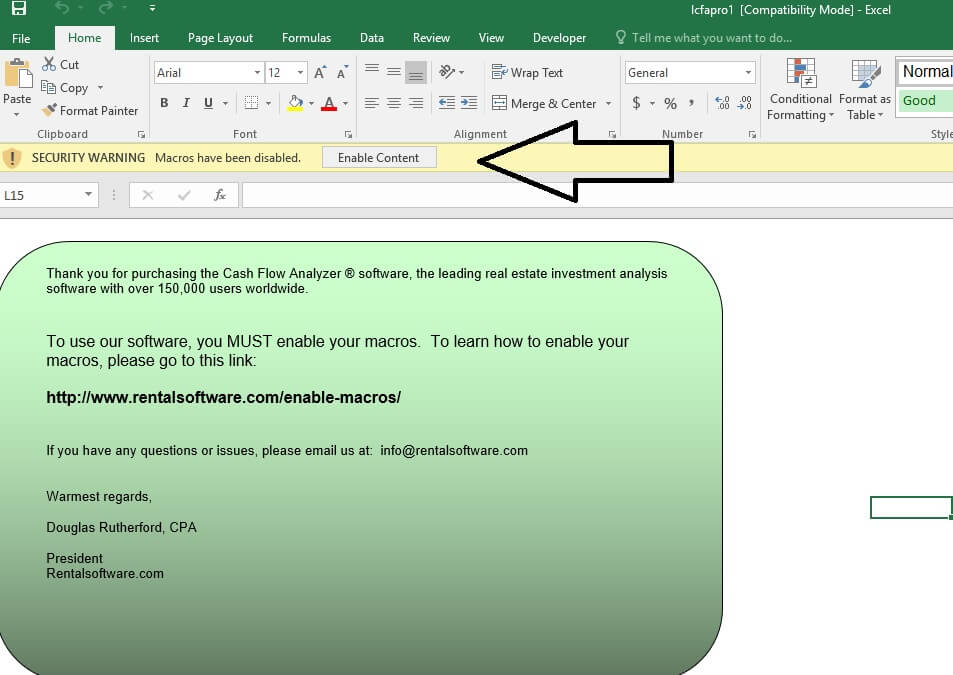 Microsoft Excel 2010 & 2013:  View Tutorial to Enable Macros
Please click the full screen feature to expand video.
Don't See a Security Warning?
Change Macro Settings in the Trust Center
Macro settings are located in the Trust Center. However, if you work in an organization, the system administrator might have changed the default settings to prevent anyone from changing settings.
Click the File tab.
Click Options.
Click Trust Center, and then click Trust Center Settings.
In the Trust Center, click Macro Settings.
Select "Disable all macros with notification"
Click OK.  Close Excel, do NOT save the file, and Reopen Excel by double clicking on our desktop icon.  Excel must be closed and reopened before the setting will take effect.
The following image is the Macro Settings area of the Trust Center.
Macro Settings area of the Trust Center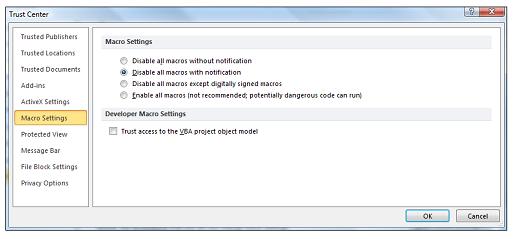 What is a macro and what is the security risk?
Macros automate frequently-used tasks; many are created with VBA and are written by software developers. However, some macros pose a potential security risk. A person with malicious intent can introduce a destructive macro, in a document or file, which can spread a virus on your computer.