Need us to review or explain the numbers? Need hands-on
software training or our experienced advice with your deal?
Get Help from a Real Estate Professional
Need help with your real estate analysis before you make an offer?  Or do you just need a professional to explain in plain English what the various financial numbers mean that are used everyday in real estate investing, then don't hesitate to schedule an appointment.
You know, it is one thing to use our software to quickly crunch the numbers, but it is quite another to understand what all those numbers mean.  Don't know what IRR or Cash on Cash return is?  Does it all seem confusing?  Sure it can be… especially if you don't do this stuff everyday.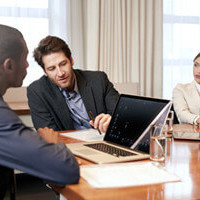 Schedule Your WebEx Session Today!
If you need hands-on help with your analysis before making an offer, then you need our service.  We have helped so many of our customers cut through the clutter and focus on the things that truly affect sound real estate investment decision-making.
Simply purchase a session and then call or email us for an appointment.
We go over your analysis with you LIVE using WebEx.  We will answer all your questions and provide our advice on your next steps.
Purchase your block of time now and we will contact you to schedule a mutual time.
Real Estate Investment Software Consulting