Thousands of our customers use the Partner Module of the Cash Flow Analyzer® and Flipper® software to present prospective investment opportunities. But analyzing a potential investor's profit and rate-of-return on a deal is just one tiny aspect of raising money for real estate deals. You need to understand the SEC rules, use the right wording, include the right clauses and protections, create an informative and professional offering and presentational documents, form the right entity, and deal with a whole host of issues during the operation of the deal.
To fill that need, I have found the must-have resource that you will refer to over and over again. It is the most comprehensive reference material for joint ventures and investment groups I have yet to come across.
The manual is written by Gene Trowbridge, JD, CCIM, who is an attorney with hands-on experience as being a group sponsor of 16 investment groups. He has written the manual on real estate investment group structuring. The second edition of It's a Whole New Business! is the how-to manual for creating and sponsoring real estate investment groups.
At 496 pages, the manual (table of contents) also contains comprehensive samples of two complete private-placement memoranda, one for a specific property and one for a blind pool. There is also a sample Tennant In Common agreement. They are invaluable reference guides.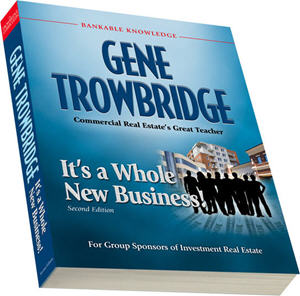 | | |
| --- | --- |
| | Securities rules you need to know. |
| | Entity structures you will use. |
| | How to draft offering documents |
| | Steps to take in creating your group |
| | How to avoid mistakes other sponsors have made |
| | How to create professional presentations. |
| | |
| | |
Gene has served as a member of the CCIM faculty since 1979. In 2002, he was awarded the Robert L Ward Instructor of the Year Award from the CCIM Institute. In 2005, Gene was awarded the Victor L. Lyon Distinguished services Award for many years of outstanding contribution to the educations program of the CCIM Institute. More about Gene Trowbridge